FileMaker Server Admin Console – Tools and Video List
2.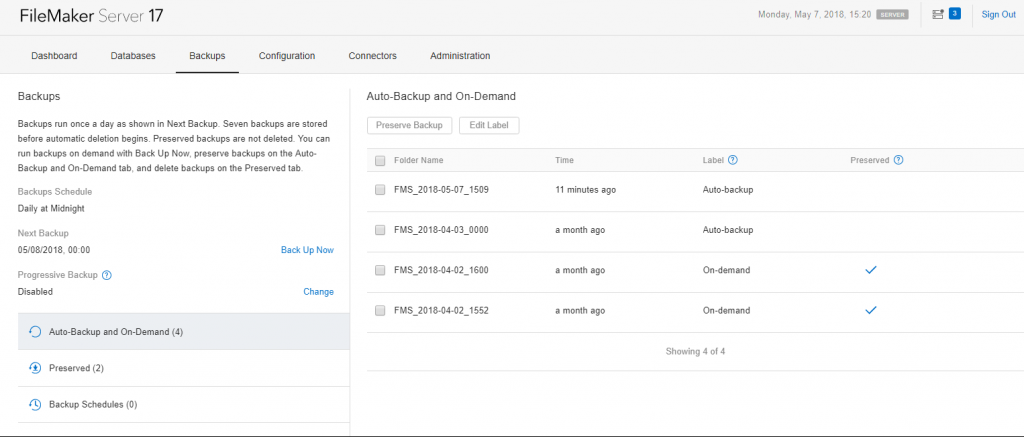 Automatic Backups
FileMaker now automatically backs up all databases once a day and keeps the last seven backups.
Want to customize that schedule? Too bad, it's automatic. This default schedule cannot be changed, disabled, worked around, or ignored. So the good news is that these backups happen automatically and they can't be disabled or turned off!
Yes, you can still create your own backup schedules here too.
Back Up Now
Great life advice. Also, a new feature!
We have On-Demand backups! Click the "Back Up Now" link to immediately back up any files being hosted.
By default, any On-demand backups are "protected" and cannot be deleted from the admin console (but don't rely on this, see below).
Manage and Preserve Backups
You can use this new backups tab to manage the actual backups themselves too! All of your system backups are referenced here. You can delete, organize, and label your backups.
FileMaker Server 17 will also let you preserve a backup, allowing you to keep it indefinitely. By default any On-Demand backups are preserved. 

If you want to delete a preserved backup, navigate to the preserved backups tab and you'll be able to delete them after a double confirmation.
If you delete the backup directly from the File Explorer (Windows) or Finder (Mac), the backup will still show up in the admin console list until you delete it through the admin console. In other words FileMaker isn't storing a live link to the file, so best practice is to delete the backup from the admin console.
Backups: Other Cool Stuff
You can label your backups now! Doesn't change the file name but categorizing can help keep you organized.



Progressive backups can be enabled here and the default interval is 5 minutes. You can change the interval using the fmsadmin command through the CLI.
Other Notable Changes
FMS no longer supports admin groups. Instead, you can configure a single admin username and password from the administration tab

You can now store your encrypted databases in a separate folder dedicated to secure storage. Only secure databases can be placed here.
In Closing
I hope you're as excited about the new FileMaker Server as I am! The new user interface will give our eyes a good time, the backups will keep our data intact, and the new console structure will speed up our work by showing more relevant options.
If you've got a copy of server and want some awesome databases to host there, give us a call!
DB Services
https://www.dbservices.com/
FileMaker Training, Support, Hosting, Licensing, & Development